Preparations for 2022/2023 student schedules. LJHS counselors will be coming to C6GA on Wednesday, January 19th. They will be coming to meet with students about their electives course selections. Please look over the images for more information.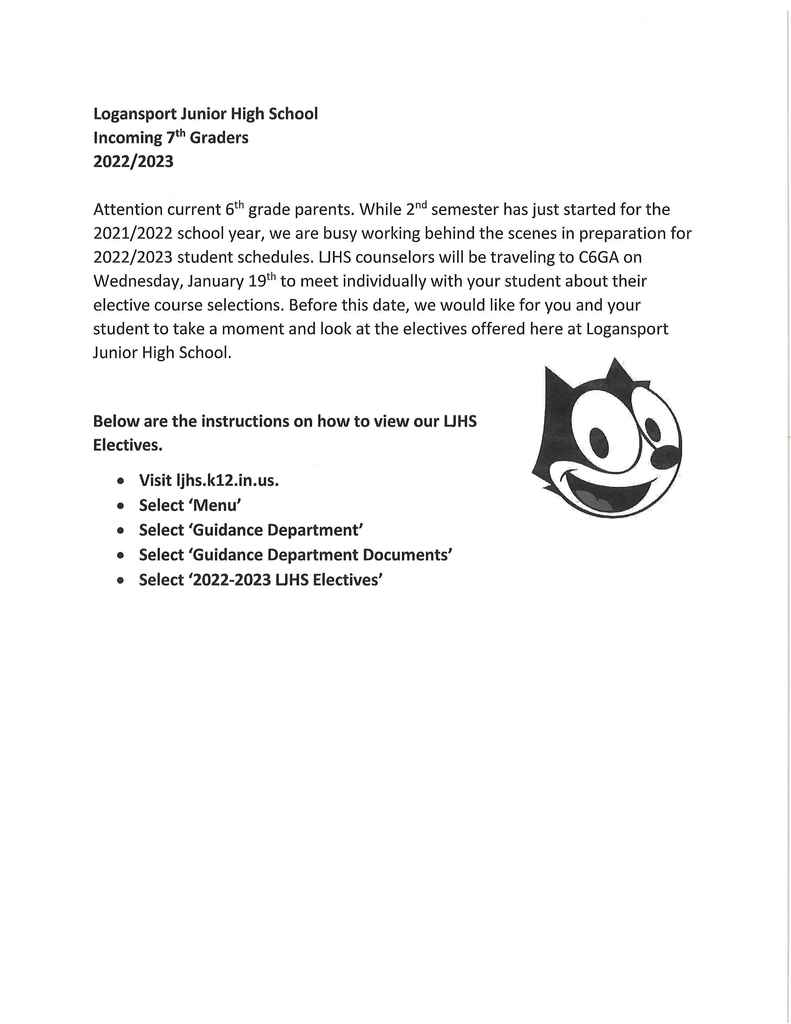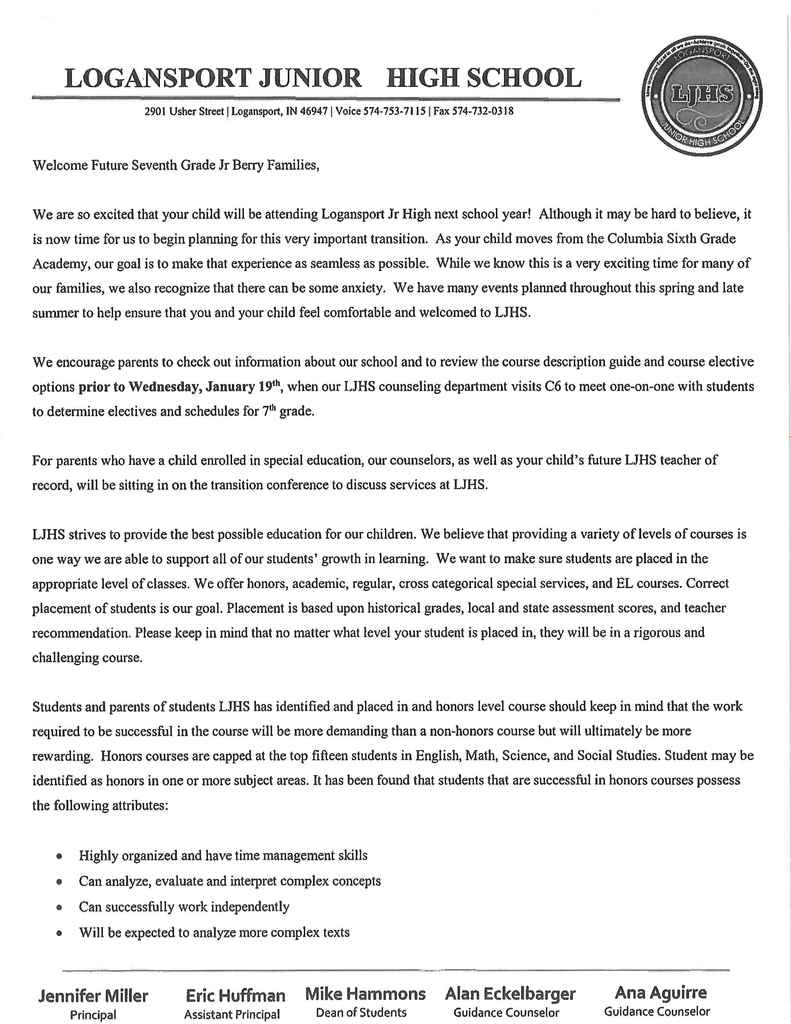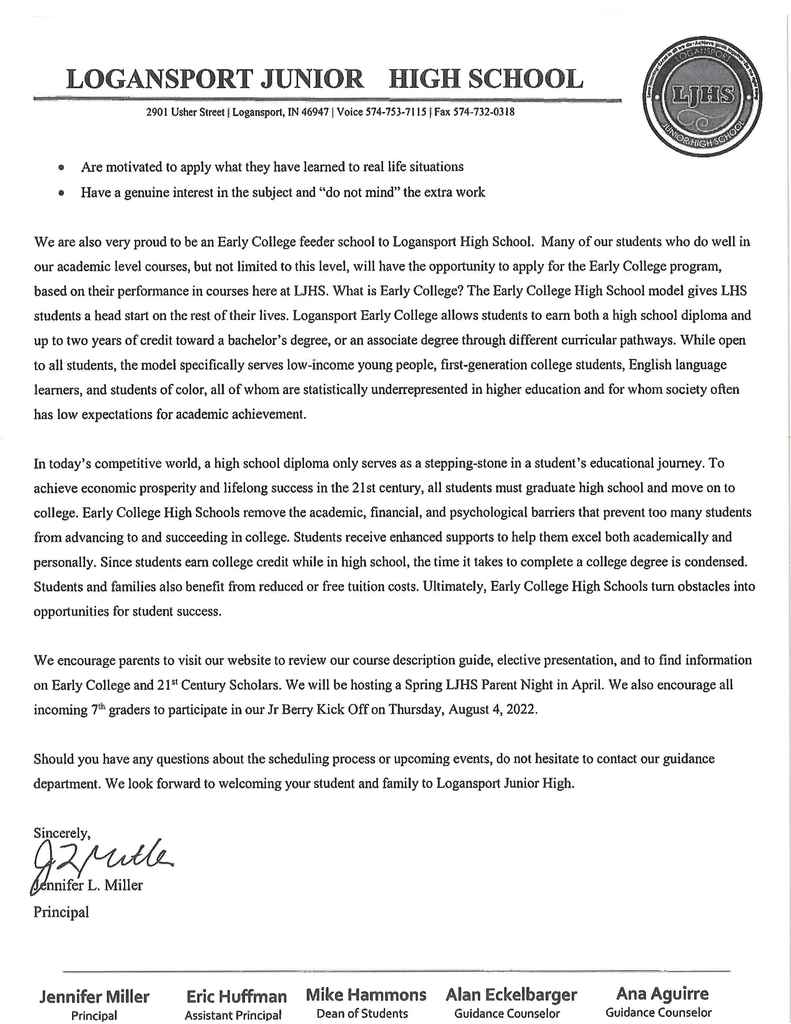 Due to weather conditions, all LCSC schools are on a two-hour delay for today, January 7, 2022.

6th grade girls' basketball try-outs will be Jan 10 and 11 from 3:30 - 5. Swim Practices begin on Jan 12th from 6:45 - 8 @ LHS. Wrestling Practice begins tonight from 6 - 8 @ LHS. Reminder that you must have a physical on file to participate.

Just a reminder you MUST have a sports physical on file to be able to play. If you need one feel free to come see me or go to the office and they can get you the form. TRY OUTS - January 10th and January 11th - 3:30 to 5 p.m

Hello Academy parents and students. We hope you all had a relaxing, well deserved holiday break. Just wanted to remind you all that school will resume for student in two days, Thursday January 6th. We look forward to seeing all of them.

6th Grade Girls Basketball will start after Christmas Break. Tryouts will be on January 10th and 11th from 3:30pm- 5 pm at The Sixth Grade Academy. You must have a physical on file to participate. If you do not have a physical on file, please schedule/get one over Christmas break, so that you will be able to try out.

Middle School Boys and Girls interested in Wrestling. Wrestling practice will begin upon return from Christmas Break. First practice will be Thursday January 6 at the wrestling room located in the LHS Berry Bowl from 6 pm to 8 pm. You must have a physical on file to participate. Any questions contact Officer Fry at Logansport Junior High School.
Christmas Spirit Week • Tuesday, December 14th- Christmas Hat/Christmas Hair Day • Wednesday, December 15th- Candy Cane Day (wear red and white) • Thursday, December 16th- Dress like your favorite Christmas Character • Friday December 17th- Christmas Pajama Day • Monday, December 20th- Light Up Christmas Day Let me see you glow! Wear Christmas lights gear • Tuesday, December 21st- Christmas Colors (red and green)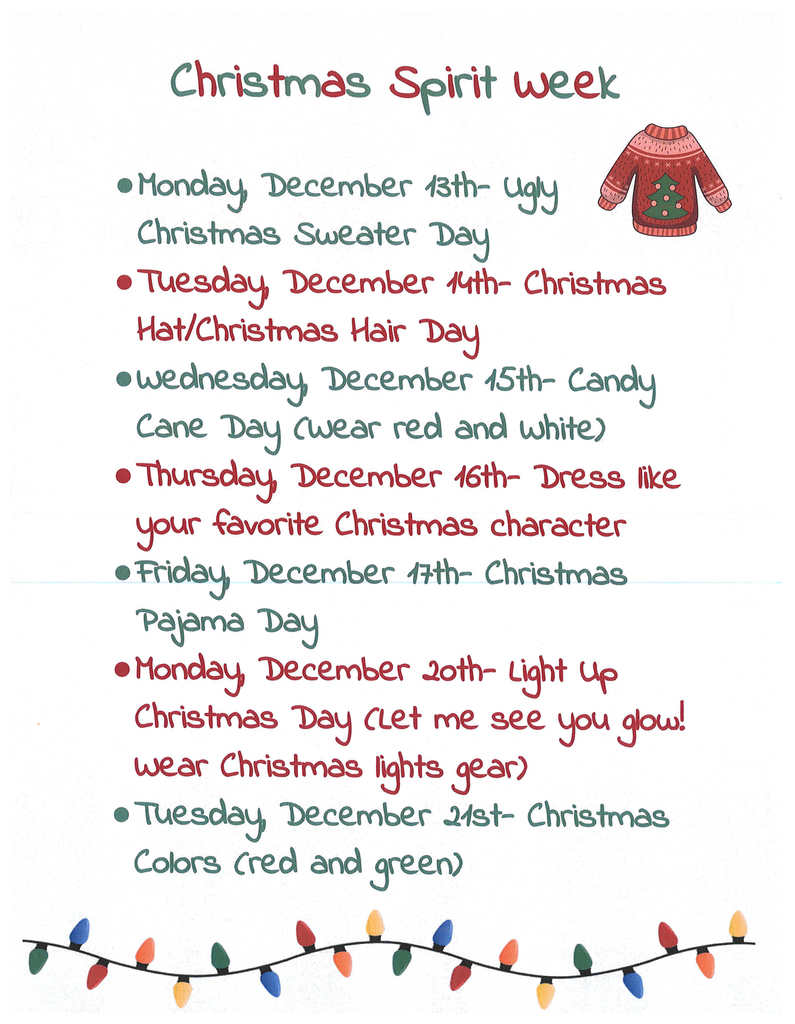 C6GA E-LEARNING SCHEDULE Block 1 10:30 – 11:15 LUNCH 11:15 – 12:00 Block 2 12:00 – 12:45 Block 3 12:55 – 1:40 Block 4 1:50 – 2:35 Teacher Office Hours 2:45 – 3:15 Teachers should prepare and post their schedule in Schoology by 10:00, if at all possible. Students should log on to Schoology to check communication from their teachers. Google Meet links will be provided, and students should then log on for each class at its assigned time.

Due to weather conditions, all Logansport schools will be on a two hour delay for today, 12/10/2021

Due to weather conditions, all LCSC schools will be on a two hour delay for today, 11/10/2021.

Parents: Brrrrr......Cooler weather is here. Students go outside for brain break, so please make sure that they have on warms clothes, coat, hat and gloves. We want to make sure they stay warm and healthy. Thank you for your help!!

Hey Hey!!!! Columbia 6th Grade Academy is having a BOOK FAIR:):) The book fair will run from November 1st through November 12th. The book fair will be in the school Library during the school day and during the evening on November 4th from 5-7 pm. If you are coming for the evening session, enter through Door #3. Below is the URL for the online book store that parents can access if they want to buy anything during our book fair dates.
https://www.scholastic.com/bf/columbiasixthgradeacademy

The G1 Awards Program will be on Wednesday November 3rd. If your child is receiving an award, you will get a phone call later this week. Times are as follows: Voyagers Blue will begin at 9 AM. Voyagers White will take place at 10 AM. Explorers Blue will have their program at 1:00 PM. Explorers White will begin at 2:00 PM.

"Cass County Volleyball Club is looking for 6th grade girls interested in playing volleyball over the winter season. Tryouts will be in January. Please see Mrs. Hanna or the main office for more information."

Due to technical issues we have encountered while preparing Honor Roll certificates, we will be shifting our awards programs to November 3. Times will remain the same. This change has been updated on our website's calendar. We apologize for any inconvenience.
School Immunization Clinic November 10th from 1:00 PM to 5:00 PM at the Logansport High School McHale please complete the online form at: patients.vaxcare.com/registration enrollment Code: IN65942